Welcome to RH Plastics Technology Limited
We supply machinery and services to many major international companies and we have activity in the following industries:-
Medical: Including Blood bags, Colostomy bags, DVT bags, Solution bags, EVA bags, Medical Mattresses, produced on HF welding machines, high frequency welding machines, rotary and inline machinery. The materials can be PVC, Medical Grade PVC and Non PVC.
Tarpaulin Awnings and Banners: Including HF travelling head, fixed head and gantry, hot air in-line and fixed head, gluing, sewing and ultrasonic system. Plotters conveyor or fixed table, water jet cutting systems and associated equipment.
Automotive: Including Car Carpets, Sun Visors, Load Floors, Seats, Doors and Tops produced on HF welding, rotary and shuttle machinery
Packaging: Including Blister Forming, for both food and non food, rotary and inline machinery, for Soft Crease Boxes, clam Shell and Standard Blisters, using thermo-contact and HF welding technology.
Stationery: Including Pockets, Binders, Tax Discs produced on high frequency welding, rotary, inline and shuttle machinery
Nuclear: Including Bag Sealers, Rotary Welders and specialised applications.
News
Paul Broadley 25 years service
A young Paul Radio Frequency testing machinery
Paul has completed 25 years service at RH Plastics Technology Ltd. He started in September 1997 as an apprentice electrical technician and completed 4 years apprentice training.
He has excelled in customer care, technical support and is one of the top technicians in the RF machinery industry.
As Chief Technician for RHPT Paul has always been a team player and is dedicated in his work. We have received commondations from customers on many occaions for his support and advise.
I take this opportunity in thanking Paul for his dedicated service and loyalty to the company. Roll on to the next 25 years
Robert Haxby
Managing Diector
We also have a few surprises for Paul in the coming weeks.
Read More >
DEPTA machine sales at an all time high
We have sold the DEPTA machinery to lots of companies in the past 6 months with a 5 machine order placed by Survitec Group, based in Birkenhead, 3M Group, CSP in Ireland, (12 machine orders they have placed) , Atomic energy company + many more
We have also ordered a further 5 machines to meet the demand for these fantastic machines
Please see below images of the machine with the operator touch screens
Main operating screen Tool setting and storage screen
Auto tuniing and power adjust screen Service screen for setting language plus other functions
The machines have many special features
DEPTA ZD4N foot welder
4Kw output power, up to 20sq inch of weld power depending on materials

Auto tuning of the power, keeps the same set power through the day without constantly adjusting the power and time

3 stage power control, you can have at stage 1 - 1.5Kw, stage 2 - 2.5 Kw and stage 3 - 4.0Kw
Operator touch screen, allows the operator to set the tooling parameters and store them for later use. Adjust the power, power-plate start position, delay time, set power 0.30 – 1.50 amp, weld time and weld count
You can set the power control for full automation, ramps up the power to the set level and then keeps it there until the weld is complete. If the power starts to climb the auto tuning brings the power back to the set point.
Semi-automated power control for part automation, you set the power manually and only when the power arrives at the set point and begins to go higher does the auto tuning operate to bring the power back to the set point. This stops the power from running away, going higher
Manual, you can set the machine to work as a manual operated machine
The machine conforms to the CE, EMC and CEMFAW 2016 regulations
The machine was designed to be ergonomic and easy to use
All panels have safety switches or lock key and when a panel is opened the machine is completely shut down which does not allow any chance of operator setter, technician to come in contact with live energy
The machine is available but due to recent increase in sales, if you are interested please contact our sales department
Read More >
Solar Edge at Texprocess, Frankfurt June 21st-24th Hall 8, booth C73
Meet RH Plastics Technology at the Texprocess Exhibition in Frankfurt
The leading international exhibition dedicated to textiles and flexible materials processing.
Messe Frankfurt, Hall 8, Booth C73
The exhibition
Finally, after 3 years have passed since the last exhibition, the event on innovations and processing trends for textiles and flexible materials is coming back.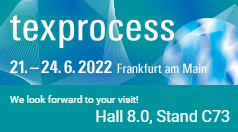 On June 21st, Texprocess will open its doors to host around 300 international exhibitors within 4 pavilions to welcome the 13.000 expected visitors.

Texprocess will take place in parallel with Techtextile and Heimtextil as the goal is to cover the entire supply chain around the textiles production, processing and applications. Visitors will enjoy the latest market trends, new products and innovations, all in one place.
The SolarEdge Automation Machines Booth
With over 20 years of experience in the production of automated machines for the industrial textiles processing, we can count around 2000 machines that were delivered to more than 50 countries. The wide experience we acquired during the years, together with our innovative drive and Italian ingenuity, have led us to develop a wide range of technology dedicated to technical textiles cutting, welding and sewing.

Come to visit our 220 m2 booth, meet our experts and watch our machines live.
You will experience:

Our latest machines demo
Customized free consultation with our product experts
Machine testing with your own fabric (upon request)
Read More >
Special Offers
---